25th No Regrets Men's Conference Saturday, February 3rd, 2018
sponsored by Immanuel Church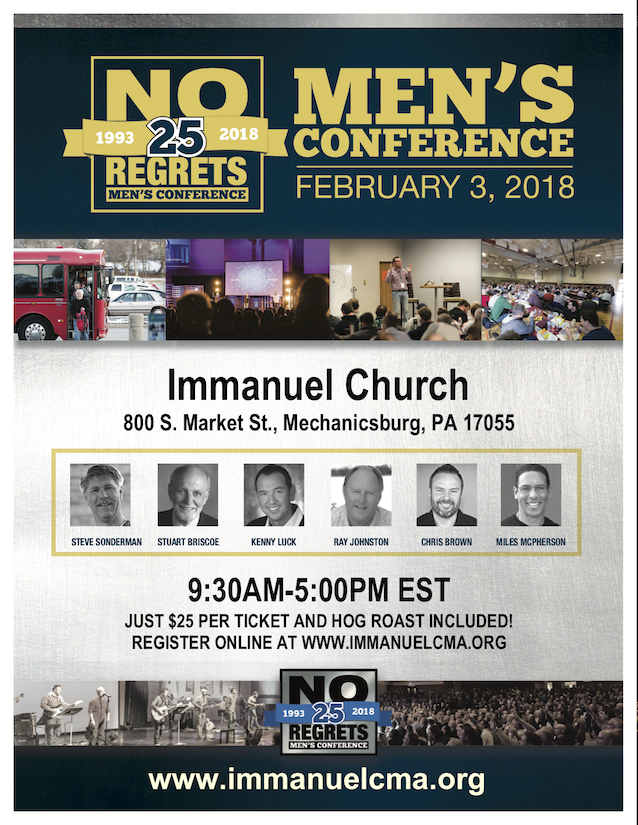 Tickets are limited and can be purchased from our website or before/after Sunday Morning Service. Tickets cost $25/person and include a pig roast lunch with all the fixins'. Electronic tickets will be sent automatically upon registration on this site to the email address used during that process.
Doors Open at 9:00 am. Seminar Starts at 9:30 am and runs to 5:00 pm. Please direct any questions to noregrets@immanuelcma.org
MARK YOUR CALENDARS!
Be sure to invite your friends.
No Regrets Men's Ministries is a worldwide men's ministry committed to equipping local church leaders to disciple men who disciple men – empowering the next generation to multiply themselves by becoming servant leaders at home, in church, on the job and out in the world.
Find out more at www.menwithnoregrets.org.
Topics include:
Living a Life of No Regrets
Leading Children Well
How to Deal with Adversity
Happy Wife, Happy Life
Growing in the Lord
Who's Your Boss?
And more…
As part of your admission, all breakout sessions will be made available to you digitally after the conclusion of the conference. We look forward to spending time in the Lord with you, and hope to see you there!
Reservations are being accepted now through 1/19! If you'd rather pay by check, please select "Pay using offline method" during registration.